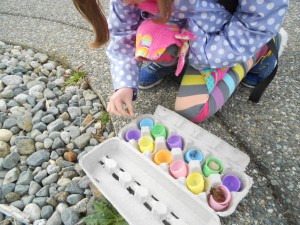 What could be more awesome than an activity which combines spring, Easter and nature? This triple play has lots of kindergarten readiness fun and learning and appeals to kids of practically any age.
There are so many tremendous and creative ideas in the early childhood community.This activity is called Reverse Easter Egg Hunting by Crystal, at Crystal and Co. Instead of hunting for eggs to find, kids find things to put in the eggs. It's a sort of What's Inside the Eggs hunt.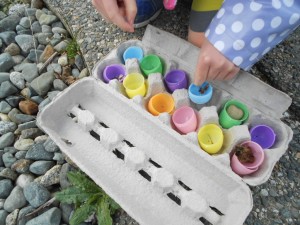 In between spring rain showers, we went outside to see what we could find. We had 12 plastic eggs, opened up and ready in an egg-carton. There were some wonderful spring surprises, like tiny little flowers hiding in the grass. Nature always has treasures such as bark, rock, twigs, dried seeds and pods, and other things down low at kid-level. Both Big Sister and Little Sister enjoyed looking for bits of nature. We tucked one item in each egg. Big Sister carefully closed them and we brought them back into the house. Opening the eggs to see what was hiding inside added to the fun.
Have you heard the term "nature-deficit"? This was coined by Richard Louv, a journalist and author, who has written 8 books about children and nature. According to Louv,  "The future will belong to the nature-smart—those individuals, families, businesses, and political leaders who develop a deeper understanding of…the natural world and who balance the virtual with the real. The more high-tech we become, the more nature we need." He believes that some alarming childhood trends can be connected to a "nature-deficit", or a lack of a connection to nature. One of the solutions is to support opportunities for children to connect with nature, just like we did as we looked for things to put in our eggs. What a super activity! What do you think of this triple play for Easter, spring, and nature?