While nursery rhymes are not as popular as they once were, they are not obsolete. Although the hidden messages are lost in time, nursery rhymes can still help with building brain connections and kindergarten readiness. There are two in particular that relate to Easter: Hot Cross Buns and Humpty Dumpty.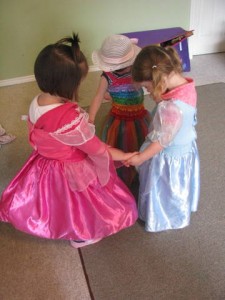 One of the most important features about nursery rhymes is the way they use language. Often, kids can remember and repeat them after hearing them only a few times because the sounds and the rhythm follow a pattern. The patterns and the rhyming words provide clues which brains use to help memory.
Nursery rhymes also encourage the development of listening skills. The difference between them and everyday language, captures children's attention. They concentrate on the words and patterns they hear because they are somewhat unusual. Rhyming words sound almost the same, except for small variations. In order to hear these slight changes, kids need to listen closely.
Some of the words are also out of the ordinary. Not many children are familiar with meadows, like Little Boy Blue, or the word fetch in Jack and Jill. Nursery rhymes add to vocabulary. Besides the language features, nursery rhymes help for learning letters, numbers, colors, and more.
There are often actions that go with the words, like Ring Around The Rosie, adding the dimension of physical activity too. This nursery rhyme is no fun with just one person. There is a social element as kids sing it together and coordinate their movements to make a circle that goes round and round. The fun part is the falling down, but even very young children will soon wait for the end of the verse before falling. Patience is another challenging skill to learn. Nursery rhymes have been a part of childhood for hundreds of years. Does your child have a favorite one?