A hunting we will go, a hunting we will go; we'll look for eggs to fill our pails, and then we'll eat them all. The rhyme may not work, but the description is more accurate. An Easter egg hunt for kids includes all the senses and is more than fun. As a sensory activity, and Easter egg hunt also includes an element of early learning and development along with the fun.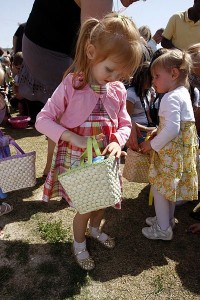 The sense of sight is probably the most obvious. Whether eggs are hidden inside or outside, kids will need to use their sight as they look all around for eggs. While some may be easy to find, not all the eggs will be hidden in plain sight. Kids will need to use clues, such as shadows and differences in color.
The best smell is the eggs themselves, but outside there's the smell of new grass, damp earth, and spring blossoms. No matter how hard kids listen, they can't hear eggs calling, but there will be other sounds. Feet make different kinds of noises depending on what's underfoot and the choice of footwear. Often, more than one child will be hunting, so there's different voices. There's lots of stimulation for the sense of touch, as hands and fingers pick up what eyes have located. The grass might feel tickly and the earth cool. If lucky, the whole body will feel the warmth of the sun.
The sense of taste gets the biggest reward. Easter eggs are yummy. But it's probably not a good idea to eat them all at once. Especially before breakfast.
Besides those senses, there are some other ones that come into play at an Easter egg hunt. There's a sense of family, a sense of belonging. Many places will have Easter egg hunts for the community. There's certainly lots of stimulation for the senses. Happy Hunting and Easter!