There are so many wonderful Halloween ideas at this time of year and this sponge-painted jack-o-lantern craft from ArstyMomma.com looks easy to do and a treat for some learning fun.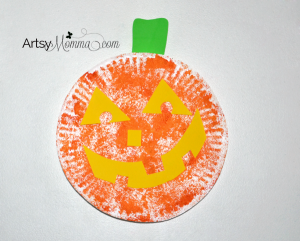 The materials needed are simple: either a paper plate or fairly thick round circle–you can cut one from the side of an empty cereal box, orange paint and something to put it on with, a bit of green paper for a stem, and black or yellow paper for the face. Oh, and glue or tape. Artsy Momma's munchkin used a bit of loofah, but a square bit from another sponge would also work. Paint dabbers are another option.
The instructions are simple. Kids need to paint lots of orange to turn the circle into a pumpkin. Once the paint is dry, kids can cut out some eyes, nose, and mouth to turn the pumpkin into a jack-o-lantern. These can be taped or glued on. Kids can also tape or glue on a bit of green for the stem.
This project gives kids a great reason to practice fine motor control. The small muscles in the hand and wrist are still developing in the preschool years and kids need opportunities to strengthen them. Kids are also figuring out their eye-hand coordination. Younger toddlers will apply the paint mostly in one area, often going over and over the same spot. Their attention is caught by the first spot and they have to learn to move their attention around. Older toddlers may be able to cover the whole area.
Although it seems like there are only 2 parts to the instructions, to paint and then add the features, there are several steps and they have to be done in order. Can kids do the face before painting? They have to do these in order. Because the paint has to dry, they also have to cope with waiting. We don't think of waiting as a valuable skill, but as adults we have to wait in lines, to be paid, and have holidays. Following the instructions will need lots of talking and language practice too..
The fun is in the creating and the feeling of accomplishment and satisfaction when all done. Is this a project your child might like?