This is an easy Halloween snack to make, and it looks like candy corn in a glass with the layers of yellow, orange, and white, but you can also make it in a bowl. Best of all, it's not only yummy but very nutritious.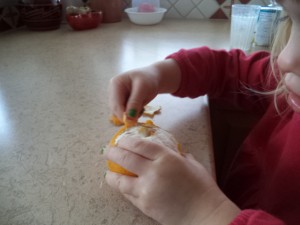 Candy corn is supposed to look like kernels of corn, with the bright colors of fall. Maybe it's a Halloween favorite because it looks like pumpkin teeth in a jack-o-lantern smile. For some trivia fun, it's been around since 1880 and more than 25 million pounds of it are sold annually! In any case, it is a seasonal favorite for this time of year.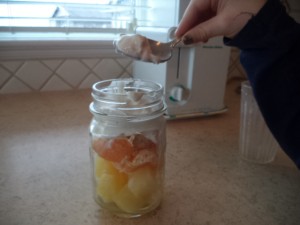 For the bottom yellow layer, put a few pineapple slices in a glass or, because not all kids like pineapple, some banana. Next a layer or small pieces of orange. Mango is another fruit that is orangey and would be quite a taste treat.  Many versions of this snack have a  layer with whipped cream or cream topping, but the white layer can also be creamy yogurt. It's like having fruit with dip only this time the is dip served on top. If this is a breakfast treat, spoon some cereal like granola onto the yogurt layer before mixing in.
While big adult hands will be needed for the slicing, little kid hands can spoon the fruit and yogurt into the glass, cup, or bowl. After eating, kids can also help with the clean-up. Involving kids in food prep and cooking helps them develop a healthy attitude to food. Food becomes a part of daily life and routine, like having a shower and dressing for the weather. There's also a higher likelihood that kids will eat what they have helped make. Kids will get plenty of sugar at Halloween time and this can be a treat without the trick of the sugar high.
What other great Halloween snacks and nutritious treats can you suggest?