Learning comes in many colors, and the ones of Halloween treats can help young children as they make the brain connections for this challenging skill.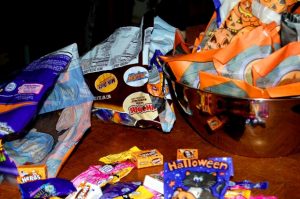 What makes learning colors so tricky? Here are a few reasons:
Each color comes in an endless variety. Think of blue, just at Halloween.Both Elsa and Spider-man costumes are blue, but so is the dark sky and they are all the same color but quite different.
Not only is there variation in each color, but many different things can belong to that color. Oranges and pumpkins are similar, but fire, leaves, flowers, carrots, and candy are orange.
As if that isn't hard enough, not everyone agrees on colors.
A number of experiences are needed for kids to link up colors and names. Halloween treats come in practically all colors, so can be used for some color fun and learning.
An easy activity is to sort candies by color. When that's done, kids can use Smarties, M&Ms, or Skittles for some color science. Using small, clear plastic bowls or fruit cups, kids can measure in a spoon or two of water, pop a different color in each container and see if the water turns that color. This doesn't usually take very long but it's fun to watch the water change. Check if your child can identify the name of the color. If not, you can give the color word. We had fun mixing the colors to see what would happen. All the colors together looked like muddy chocolate.
Kids can even paint with the colored water using a q-tip or little brush. The candies do not look as tasty after their water bath but they have been another way that brains can sort, compare, and identify colors. They have also helped us get a peek at a child's thinking and development.
What color seems to be the biggest group or the most popular for Halloween treats?