Nature is Part of the Magic of Christmas for Kids
From the trees and holly decorations, the foods we eat, carrots for the reindeer, to lights and dark sky, Nature is part the magic of Christmas for kids, no matter where we live.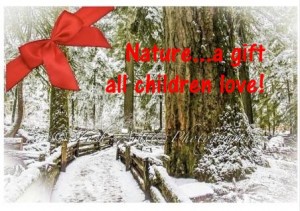 When we stop to think about it, nature is included in Christmas. The original Christmas trees were evergreens, and even the artificial ones we now use look like them .Christmas nativities have animals as well as people. Many ornaments on trees are based on natural items, such as icicles and snowflakes. For where it's not cold enough, we can spray snow on the windows. Holly, poinsettias, pine cones, and mistletoe decorate houses and stores. Colored lights brighten the dark nights that are so long at this time of year, unless you live in the southern part of the world. Where is Santa from? He lives in the North Pole along with the reindeer, or maybe kangaroos in Australia. Isn't that all nature?
Many activities and events for families at the this time of year take advantage of the natural season. For colder regions, there's skating, skiing, and building snowmen. In warmer areas, it might be swimming in an outdoor pool or beach. A hike can happen anywhere. Besides putting out food for reindeer, your family can put out some seeds for the birds.
Christmas is a feast for the senses. Besides all the yummy things to eat, there are delightful things to smell. Cinnamon, oranges and candy canes are three favorites. For touch, pine cones are prickly, blankets are fuzzy, and wrapping paper is smooth; the cup of hot chocolate is warm but ice is cold. Ears listen to music and songs all day long, and there's so much for eyes to see. This too is part of nature.
There is so much to celebrate at Christmas. Does your family have nature time or activities?