Valentine's, special treats, learning styles, and love languages? These all connected as the family talked about what to cook up for Valentine's Day.
There are pages of wonderful treats to make with kids for Valentine's Day, some easy and simple and others much more elaborate. Pancakes, toast, and cookies can be cut into hearts and topped with anything red. Breakfast can have a valentine ingredient with red berries on cereal or in yogurt. Red smarties or cinnamon hearts will add a sweet treat to a snack. Chocolate can be used in smoothies, beverages, and desserts. The possibilities are endless.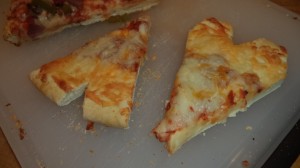 When thinking about what kind of treats to make for Valentine's Day, Little Sister suggested making pizza and cutting it into a hot shape. I should have been able to figure out what she was saying, but I didn't know what kind of shape that was. "Do you mean a hot shape," I asked? No, she didn't mean a hot shape. She said it again slowly and as clearly as she could "a howit shape." A howit? I desperately needed more information so asked Big Sister to interpret. Big Sister didn't know what she was saying either but she supplied a clue. I needed to cut out a little triangle point at the top in the middle of a slice. Suddenly, I saw a picture in my mind and knew. Little Sister wanted each piece of pizza in a heart shape.
Besides the chuckle, this story also makes a point about brains. Sometimes we can hear but it doesn't make sense, other times we can see and still not understand. There's lot of discussion about how some of us are auditory or visual or kinesthetic. Not only do we have learning styles, we also have a loving style or love language.
Kristen at BusyKidsHappyMom.org has a chart of Mom's Guide to the Five Love Languages of Children which outlines Touch, Words, Quality Time, Gifts, and Service. These are different ways to tell kids that we love them and kids, like adults, will respond to all of these ways but have a preference, a sort of expressway to the heart. Making a special snack would be service.
Valentine's day has a message of love. Some valentines we can eat. What way do your kids like to get the message? What is their love language—and yours?