Brought to You by Cinco de Mayo and the Number 5
Everyday learning for kids takes advantage of what is happening at the moment. For a play-of-the-day, how about some fun with Cinco de Mayo for kids? Even if your family does not celebrate this Mexican victory festival, the event can inspire some activities to do at home.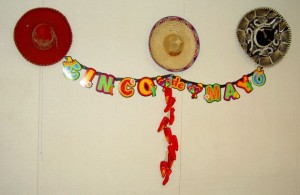 Kids like to count. They may not have all the numbers in the right order, or know exactly what each one means, but they imitate the behavior of adults and say the numbers. How about trying some of them in Spanish? Uno, dos, tres, cuatro, cinco. Kids may already know some of these from watching Dora on tv.
Since it is Cinco de Mayo, and cinco is five, we can ask kids if they know anything that is 5. Each hand has 5 fingers. Each foot has 5 toes. Kids can jump and hop 5 times, take 5 baby and 5 giant steps, roll over or touch toes 5 times. Set the timer and let them dance, exercise, or run around for 5 minutes.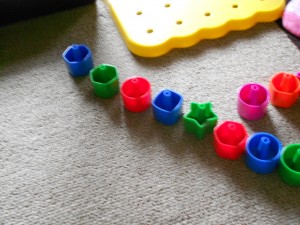 Red and green are colors in the Mexican flag and many decorations. Kids can find toys that are red and green, like cars, stuffies, and blocks. Using block or some other toy, they could make a pattern with red and green. This pattern uses 3 colors: red, green and blue. Lego and Duplo have red and green bricks. What can they build with them?
The sun is often used in Mexican decorations. With crayons, paint, or chalk, kids can draw and color some suns.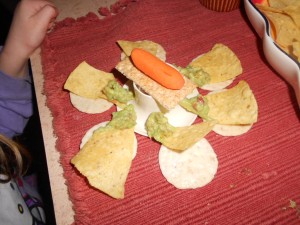 For a snack, guacamole is a favorite from Mexico, with some salsa and taco chips. Kids can help in the kitchen, especially with smashing the avocado and mixing it with a bit of lime juice. They often like foods milder than adults do so you may only want to use a bit of chili powder or skip it for them. 5 chips apparently were not enough for a sun; it needed 6.
Of course, give each other High Fives. What other everyday learning can happen today with Cinco de Mayo for kids?