Would you do science activities with your child if it could be easy and simple? How about some ideas for science fun with eye droppers? There are several ways that kids can play with eye droppers. We used both regular eye droppers left over from liquids and also a child-size one that we found at a toy store which holds more and is easier for little hands.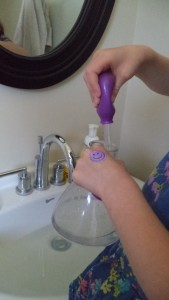 Playing in water is appealing for all kids. Either with a sink of warm water or just a bowl of water at a table or counter, kids can pinch and squeeze to fill up the eye dropper and then squirt it into small plastic containers of various sizes. This is fun to do with toy dishes or empty bottles. This can also be done outside on a patio or deck.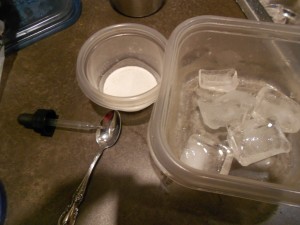 Freeze some water in a few containers or ice cube trays. Pop the ice cubes or blocks into a plastic tray and let kids squirt them with warm water to help them melt. This is especially fun on to do outside on a hot day and kids discover that the ones they squirt melt faster.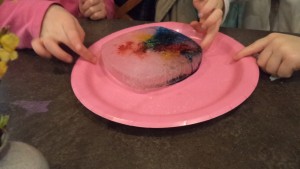 Using a larger chunk of ice, the size of a sandwich container, kids can sprinkle a little salt on the top. Mix some different colors of water and food coloring and kids can squirt these onto the ice block. The salt melts down the ice and the colors go deep into the block.
Instead of salt, sprinkle some baking soda into a shallow tray or muffin cups. Squirts of vinegar make little volcanoes bubbling and flowing all around.
Not only are these ideas for science fun with eye droppers easy and simple, they are also very inexpensive. This activity from Learning 4 Kids used recycled bottle caps. Both Big Sister and Little Sister tried to fill the lids, although Little Sister traded her eye dropper for a spoon. Can you suggest some other activities with eye droppers?
Follow this series of science play-of-the-day activities.