This weekend, we wanted to do a nature activity but the fall weather is cool and rainy. A trip to a butterfly garden was an adventure in flying color.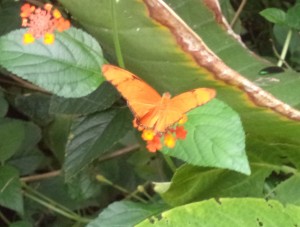 The butterfly garden only about an hour from where we live is more than a garden, it's really a sort of indoor rain forest with tropical plants, brightly colored flowers, and hundreds of butterflies. Although on cloudy days, there are fewer that come out from their hiding places in all the green, we still saw many different kinds and marveled at the colors.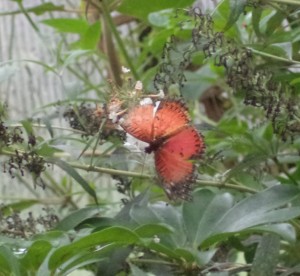 Most of the butterflies seemed to have orange and yellow as the major colors, but these still seemed very unusual. Catching the butterflies with their wings spread in a photo to show the amazing colors was almost impossible. The biggest ones there were a deep blue that looked like velvet but they disappeared so quickly into the shadows we barely had time to look!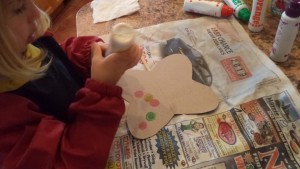 When we got home, Little Sister wanted to paint. That seemed like a perfect way to play with colors. I cut open an empty tissue box and she helped trace a butterfly outline on the blank side. Because the box was quite stiff, I cut around the outline. After covering the counter and rolling up the sleeves of her paint shirt, she was ready to color her butterfly with paint dabbers. She carefully unscrewed the lid for each color and did one or two spots and then replaced the lid.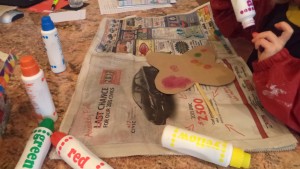 Her favorite dabber this time was purple and she spread quite a bit of it in one area before she decided the butterfly had enough color but her fingers didn't. For young children, the process is much more important than the product, especially if there is a sensory aspect. Likely, the sponge and paint felt cool and maybe a bit tickly.
Just like kids, nature seems to play with colors. Is there a place in your area where you and your child can go for an adventure in color?
P.S. We'd love to hear and read about your adventures too. You can share them on 123kindergarten's page on Facebook.