The muscles in the hands and wrists are still developing at this age. Here is a great craft for some fine motor Halloween fun to strengthen small muscles.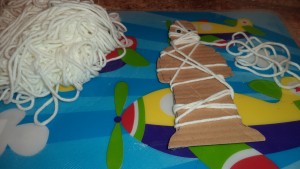 First of all, thank you to Lalymom for this mummy yarn wrap . Her tag line is "home with two, creativity will brew." With two kidlets, it's not always easy to find activities that are appealing to different ages but with a little tweak this one worked for both Big Sister and Little Sister.
For this yarn wrapped mummy, draw out a sort of body shape on fairly thick cardboard. (Hint: I made a foot at the bottom so the yarn would stay around the legs.)  It needs to be big enough for a small hand to hold and the cardboard needs to be really rigid. About the size of an iphone is comfortable and easy to manipulate. Stick on two googly eyes, or glue on two white buttons and draw in the black dots. To keep the yarn from sliding off, I wrapped a couple of times around the mummy's neck and tied the yarn. Then, Big Sister began to wrap and wrap. It's surprising how much coordination this takes. To keep the yarn on the shape, you may need to cut out some notches around the edges.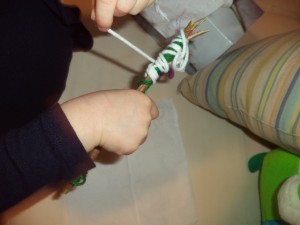 Little Sister wrapped yarn on a stick to make a magic wand for wizards or fairies. She used sparkly green yarn but wanted some of the white yarn too. Going around  and around the stick was certainly easier than going around and around the mummy. It was also more colorful (and it's a great way to use up bits of yarn or ribbon).
Some kids may only want to go around a cut-out  or stick a few times, while others will make several layers. No matter how much kids do, they are involved in combining different materials, following instructions, stretching concentration, and using vocabulary. At some point in the future, they may  use the same idea in their self-directed play.  Any other ideas to wrap this up?