Do you know about dinovember, books, and kids? I just discovered it last year and loved the idea.  This explanation is from a blog last November:
Dinovember is the idea of parents Refe and Susan Tuma who wanted to hold onto the magic and wonder of childhood for their children for a little longer. The digital world can be stiff competition for the imaginative one. So, using plastic dinosaur figurines, they pretended the dinosaurs had come to life in the night, and the kids woke up to see whatever had happened.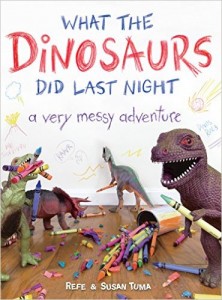 Obviously, Dinovember appeals to more than kids. There are more than 270 thousand followers on Facebook. Put in the hashtag #dinovember on Instagram and up pop more than 14,000 photos and videos. The Tumas have a new book out for the dinosaurs this year, "What the Dinosaurs Did Last Night, A Very Messy Adventure." Kids can delight in the photos and words of the dinosaurs' antics.
There are other wonderful books about dinosaurs to share with kids, too. Board books, comics, silly stories, ebooks, pop-ups, and more factual science books. Here are some recommended from last year and a couple of others as well.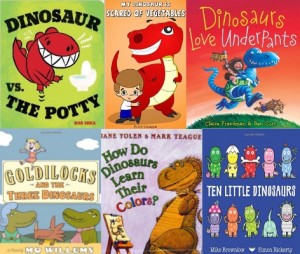 Dinosaur adventures can be very unusual, including this one by Bob Shea: Dinosaur vs. the Potty. Usually it's the dinosaurs that are scary, but Lily Lexington's book has "My Dinosaur is Scared of Vegetables. Dinosaurs Love Underpants according to Clair Freedman. Somehow, Mo Willems' book s is a mixed up fairy tale because it's Goldilocks and the Three Dinosaurs,  and the dinosaurs don't want to eat porridge. Dinosaurs help with counting in Jane Yolen and Mark Teague tell us How Do Dinosaurs Learn Their Colors. Ten Little Dinosaurs by Mike Brownlow helps to learn counting.
Reading books and sharing stories with children is powerful for brains. Neural pathways are created as children listen to the words and look at the pictures. Imaginations travel 60 million years back to the time of dinosaurs. What are some dinosaur books your child enjoys? Any dinovember adventures at your house?