Playing with dinosaurs and construction toys was a popular play-of-the-day during Dinovember last year. Here is the blog post to inspire more fun this year:
Dinosaur Play and Construction Toys
Because kids never see real live dinosaurs now, they are not limited in any way as to how they play with them. Dinosaurs are almost magical creatures that can do anything. This leaves kids free to play and create what activities they want and need. Dinosaurs can be used with other toys like Lego, blocks, or natural materials like sticks, grass, and rocks. They can be the "people in a doll house or on a car and truck mat. They might want to swim in a Duplo pool or take a ride in a school bus.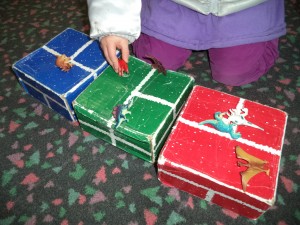 How children play with dinosaur and construction toys will depend on what is important to them and may include some of what kids know about dinosaurs. If the only interaction between dinosaur toys is fighting and eating each other up, kids may respond to a few ideas such as, "The dinos need to go to the store to get some groceries. Can you tell your dinos what they need to do in a store?" Kids may also need support to use their imagination and their own ideas.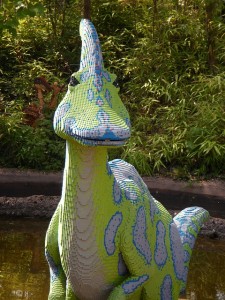 Adults can talk to the dinosaurs about social interactions like, "Big Dino, you need to be gentle with Little Dino and share. Friends share and are careful not to hurt each other." You can be the voice of the Little Dinosaur and model using "I messages." An I message might be: I don't like when you you push. That hurts me." The dinosaurs have used their words and reminded children to use theirs. Often, as kids play though, they are trying to understand big, adult concepts. Life and death can be part of their reality and this kind of play helps them deal with those issues.
As children play with dinosaurs they are developing thinking skills like problem solving, spatial manipulation, and predicting outcomes. They are using the small muscles in their hands and wrists to move and build with the dinosaurs and other toys. Their play is self-directed and creative. Dinosaurs may have small brains, but they can help grow children's brains. How does your child play with dinosaurs?