One of the nicest presents anytime of the year is a friend. For a play-of-the-day, combine it with some outside time for a nature playdate outside. Now, there are two friends.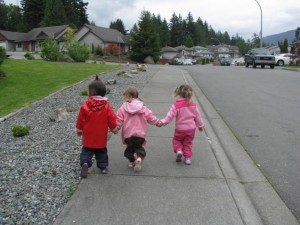 At this time of year, the activities for a child and friend are will be influenced by the weather. In some areas, kids may be able to take a ball to an open area and have fun kicking and chasing it. In other places, zipped into snowsuits, kids may be able to use sleds and toboggans, build snowmen, and make snow angels. If it's just wet, rubber boots and muddy buddies mean kids can splash in the puddles.
Playgrounds may be another possibility, depending on where you live. Swings are fun anytime of the year, as long as the seats aren't wet. An old towel will often be enough to wipe water off a slide so kids can enjoy it and stay warm. If the playground is a better choice for another day, even a short walk around the block gives some time outside and in natural daylight.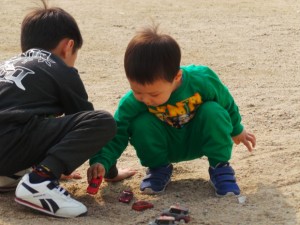 In any play school, daycare or preschool setting there will be many social expectations on kids. They need to know how to interact with others their own age. Being a member of a group can be demanding for anyone. Having a play date gives kids an opportunity to develop and practice social skills. Kids engage in give and take, negotiating, and communicating.
The nature factor adds a special dimension. It awakens and stimulates the senses. Birds and animals may not be as visible, but there's still lots to see, hear, an d feel. Warm, cool, or cold with sun, clouds, or rain the weather is nature's part of the conversation. What will we say to nature?
After some nature time, friends can come back in and enjoy a cup of hot chocolate or maybe a cool juice. Cookies go with either. Is there time for a nature playdate outside?