Valentine's Day doesn't often happen on a weekend, let alone a Sunday, so for today's play of the day, how about a valentine nature adventure? One thing about kids, they love to move and spend time outside. Is there some activity your family could enjoy outdoors?
Depending on the weather, it might be possible to go for a hike. Whether the ground is brown, green, or white, feet love to run and walk. That is, of course, if they are warm and dry.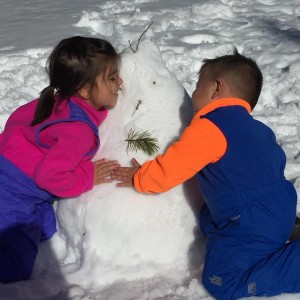 Another idea might be some time in the playground. What can be better than sun, a swing, and somebody to push? Slides are fun too.
If there's some winter snow, making a snowman is always an adventure, along with sliding and just playing in the snow.
Spending time outside in nature is more than an adventure. Connecting to nature is vital for the health and well-being of kids and adults. All too often, nature time is missing, particularly for kids. According to an article in the Smithsonian magazine, "Researchers have been sounding the alarm for years that kids—especially those who grow up in cities—are spending less time out in nature. Past studies have shown that exposure to the outdoors increases kids' physical and mental health." (Smart News)
Author Richard Louv has written about children and nature-deficit disorder. How has the nature of childhood changed? We're missing the part about nature.
According to the National Wildlife Federation, "Studies show outdoor time helps children grow lean and strong, enhances imaginations and attention spans, decreases aggression, and boosts classroom performance. In addition, children who spend time in nature regularly are shown to become better stewards of the environment."
Besides giving valentines to friends and family, we also need to give a valentine to the natural world that supports life for all of us. What better way to give a little love than spending time in a valentine nature adventure?