Bubble packaging is not just fun to pop. Along with a few other recycled items, it can be used to create some amazing bubble art for a play-of-the-day.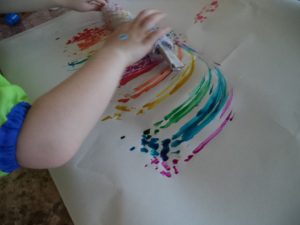 If you've ever done any wall painting, you've likely used a paint roller. You can make one for kids by rolling bubble wrap around a cardboard tube. Roll the bubble wrap around the middle of the tube and leave the ends uncovered so kids have a place to put their hands. With some thick paint spread on a styrofoam tray or flat plastic dish, it's easy then to roll the tube in the paint and get the bubble wrap all covered. This can get rolled on paper for both paint and sensory fun.
This was the plan, but Little Sister really, really wanted rainbow bubbles. We have some thicker paints in a variety of colors, but not like the rainbow of paint dabbers. So, we adapted. We covered the whole tube with bubble wrap and slid in two toilet paper rolls to be handles to make it long enough for 6 colors. Still using the foam tray, it was easy to make a line for each color by running the paint dabber up and down a few times.
When all the colors were on the tray, Little Sister rolled the tube back and forth. I wasn't sure if the thin paint would stick well enough to the bubbles, but it did. Rolling the tube on the paper made little bubbles of color. Making the rainbow go over and down was tricky to do, so Little Sister just pushed the tube. This time, instead of dots, there were lines.
Understanding that some of the bubbles might pop when painting, it's a good plan to cover the space where kids are creating with a plastic sheet or layers of newspaper. Have some soapy water handy just in case. Even if some of the bubbles deflate, they still make a dot. Does this bubble art activity pop for your child?