Children's space books are almost as numerous as the stars in the sky! Space is a really popular theme for children's books.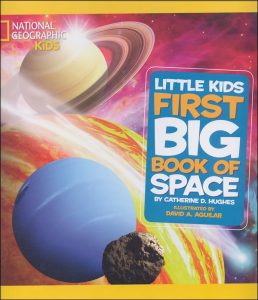 There are wonderful picture books about space with amazing photographs and illustrations. National Geographic Little Kids First Big Book of Space by Catherine Hughes and David Aguilar is one of these. It answers basic questions kids have about space so we don't need to have all the answers. The book is divided into chapters that are relevant for kids. The first one is Looking Up From Earth. The next is Earth's Neighborhood, followed by Earth's Other Neighbors and Far, Far Away. The last section is on Exploring Space. Who knows what discoveries will happen in our children's lifetime? The page on gravity invites kids to jump 5 times in a row to show gravity works every time.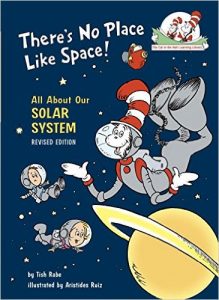 Not written by Dr Seuss himself, There's No Place Like Space by Tish Rabe and Aristides Ruiz, features the Cat in the Hat. Familiar rhyming text takes kids "off to have fun. We'll visit the planets, the stars, and the sun!" Wonder if the Cat in the Hat has packed any Green Eggs and Ham in case he gets hungry in space?
Joey and Jet in Space, text and pictures by James Yang, is a simple story with only a few words but there's lots to explore. Almost like a Richard Scary book, rockets and spaceships come in a tremendous variety of shapes and colors. Joey not only goes on a journey to space, he's on the lookout for his pet. Of course, kids would take along their pet.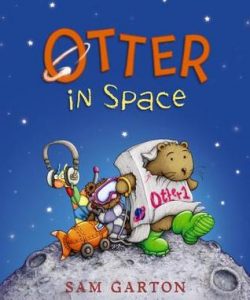 Sam Garton's Otter character also takes along her pet, Teddy, in Otter In Space. Otter's trip starts out with a visit to a museum where she sees "old paintings, made before crayons were invented." But her discoveries do not end there. Just like parents, Otter Keeper won't buy her everything she wants in the gift shop. With some imagination and creativity, she solves her quest to travel to outer space.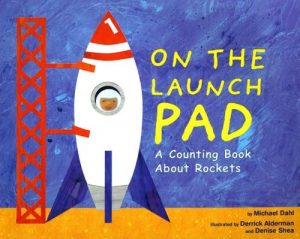 Of course, any pile of children's space books needs one for blasting off. On the Launch Pad: A Counting Book about Rockets,  by Michael Dahl does just that. After hearing it a few times, kids will be able to 'read' this by themselves.
Any out-of-this-world adventures with books for your child?