No need to go into orbit for this planet movement activity fun, kids can do it right at home. They will need a space for moving and a flat space ship.
Space ships aren't usually flat, like magic carpets, but kids need something they can get into and out of, or on and off easily. The idea of this game is to count down, blast off and travel to a whole series of different planets for a variety of ways to move. This is how Little Sister played: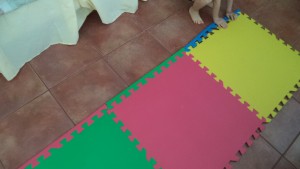 Little Sister put together some foam mat squares to be her space transport. She got into her space gymnastic suit and counted down. After blasting off, she pretended her space ship zoomed in space and then landed. The first planet where she stopped was the Jumping Planet so she got out and jumped around a few times. Then, it was back in the space ship, count down, blast off, and zooming some more. The second planet was the Crawl Planet, so she could only move by crawling. After some time on that planet, it was time to do the whole sequence and land on another planet again. Planet #3 was the Swim Planet, which meant stretched out on the floor with arms and legs spread out in order to move by swimming motions.
Leaving the Swim Planet required a modification of blast off position. She stretched out on her space ship so she could swim away. The next planet was the Hop On One Foot Planet. Her visit there wasn't too long. At this point, I was no longer needed to suggest a kind of movement activity. She thought of a few herself, such as the Twirling Planet and the Walk Like A Robot Planet.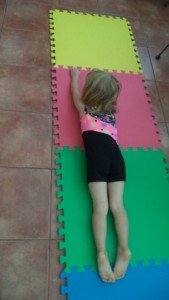 We know from experience that kids move all the time, but might not know why. Movement activities support the brain to make connections used for thinking. Kids need to move, not just for body development but for brain development too. Muscles need strengthening and coordination requires a tremendous amount of brain activity. A game, like this planet movement activity fun, is a great way to encourage kids to move. What planets will your child land on?
For more outer space or down-to-earth activities, land on the blog or play-of-the-day tabs.  Welcome to Planet Play!