Is it really the 47th anniversary of the moon landing? We couldn't walk on the moon so instead we made chalk moon footprints on the patio. What a fun play-of-the-day and space activity idea.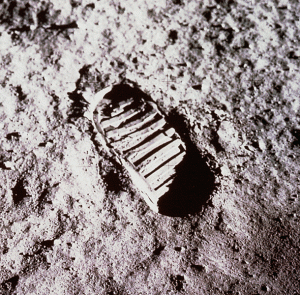 When he walked on the moon, Neil Armstrong said, "One small step for man, one giant leap for mankind." Because there is no atmosphere and erosion from wind and water, the footprints are still there. Edwin "Buzz" Aldrin took a photo of one of his.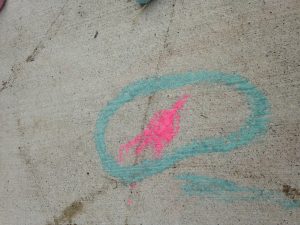 Maybe from hearing about it on the news or listening as we talked around the table, when we went outside to the patio, Little Sister took off her sandal and traced around it with sidewalk chalk. She asked for help with the tracing but colored inside the outline by herself. Unlike the moon, where the water is frozen, she dipped a paint brush from the outside toybox and painted over it with water. Then she scrubbed at it with an old dish brush which is another sort of toy. Soon, her footprint had disappeared. Big Sister made one too.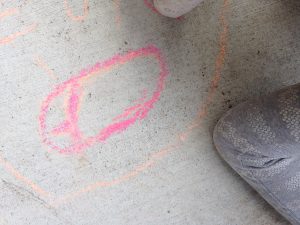 Drawing is another sort of expression for kids. It starts with scribbles and lines as kids discover they have the power to make marks. Later, their marks represent something and we may be able to recognize what it is. Not all drawings though will look like an object. Sometimes kids just draw shapes and colors but whatever they do, it will be meaningful for them.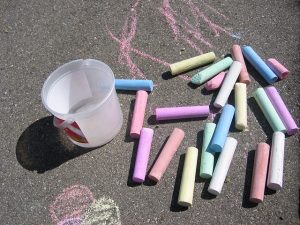 For some fun today, give kids a few sticks of sidewalk chalk and let them draw and color. Sidewalks, patios, decks, and driveways are like giant pieces of paper with lots and lots of space. Even if they are not coloring any planets, asteroids, rockets, stars, or chalk moon footprints, it can still be a space activity. Can they fill up the space? Wonder if the astronauts were tempted to draw in the dirt on the moon?