This button bead fall twig tree is as much fun for adult hands as it is for kid ones. Plus, it's bright and colorful for a holiday centerpiece.
Our weather has turned cold, wet, windy, and grey so we didn't spend very much time outside. Only long enough to gather a few twigs. Sticks were too thick for what we wanted—small enough for buttons and beads—but a bush had some about the right size. We snapped off a few dried ends and carried them home.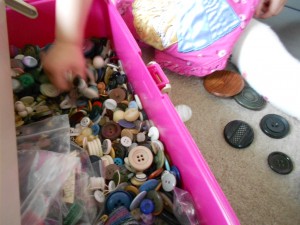 First, we sorted thru the button box to find some that were red, orange, and yellow like the autumn leaves that are blowing around. Little Sister loves to run her fingers in the buttons and squeeze handfuls. This is quite sensory because the buttons feel smooth and make lots of noise. We also scrounged some fall colors of beads. Next time, I'll look for more variety of colors instead of so many pink. Note to self: Pony beads would have a much larger hole and could be threaded onto thin sticks from trees.
Next, we stuck the twigs into a lump of play dough. Plasticine would be stiffer and wouldn't dry out so that's another thing we learned. Sometimes, knowing how to change and adapt an idea is as valuable as the idea itself.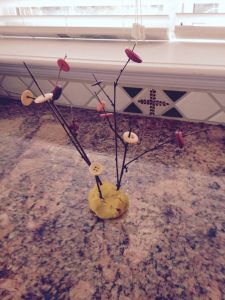 When the twigs were tucked into the play dough, both Big and Little Sisters threaded the buttons and beads onto the twigs. A few ends were too thin to support much weight so we snipped them off. Since our twigs were pretty small, the kids didn't use all the beads. These got stuck into the play dough to be ones that had fallen on the ground.
The photo is our button bead fall twig tree all done. We were all pleased at how colorful and bright it looks. We can use it on the Thanksgiving table but the kids will probably want to play with it and do it again a few times. There are several versions of these projects on-line. Instead of sticks and twigs, twist together 3 or 4 pipe cleaners at the bottom. Bend the  tops out to make branches. As mentioned before, pony beads would be easier to slide onto pipe cleaners. Sticks and twigs add a little bit of nature.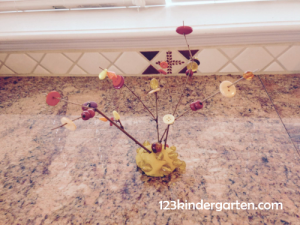 This is a super activity for fine-motor skills, nature, art, and science all combined. Count the buttons and beads for some math. There was lots of discussion about what beads and buttons to put on what branches and a few fall words too. When the time comes to use it on the table, the kids will be proud of what they've created. So much learning and fun in one activity. Do you think your child would like to try this button bead fall twig tree?