Chances are good one day in the future your child will go to kindergarten. Getting ready for kindergarten everyday is the best way and the best time is now. That's because 90% of the brain develops before the age of 5. The graph below shows the window of opportunity. The high spots happen earlier than we imagine.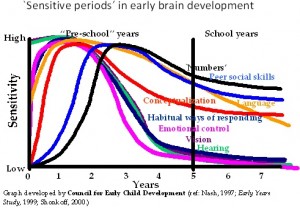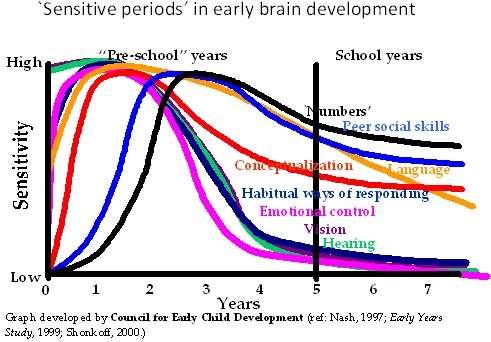 Getting ready for kindergarten is something you and your child can do every day. And the best news is, it's not hard and won't add to the to-do list. It's as easy as 1, 2, 3.
#1. Fill the day with words. This can be singing, telling stories, sharing silly jokes, and having conversations. Kids need to hear millions and millions and millions of words to develop skill with language. Research estimates the number of words children's brains process to be between 3 and 10 million a year. That's just over 10 million words for some kids, and over 40 million for others. A gap of 30 million words. Think of your child's brain as a sort of bank account for words. Would you want your child to have only 10 million or over 40 million? Enrich your child's day with words.
#2. Read and share books and stories. This need only take a few minutes every day to add up to an entire library of books downloaded into your child's brain account. Say you read 5 stories a day, a few days a week, about 25 books a week. Is that doable? Here's how it adds up. 4 weeks a month makes 100 books. In a year, over 1000. By the time your child goes to school, there are 5000 books and stories ready in the brain. That's a tremendous number of resources you have built up with just a few stories a day. And yes, one book that's read a thousand times still counts.
#3. Whee. Kids absolutely need to move. Children's bodies are growing on the outside and brains on the inside. Bodies and brains are a powerful team. Movement activities create special pathways in the brain. Kids use these for all kinds of thinking skills. On a sensory level, we need to engage the senses of touch, sight, hearing, taste, smell as well as the body's position in space and the sense of movement. A child's day needs space and time to move and be active.
Finally, PLAY. Play is the brain's favorite way to learn. Likely, your family is busy but kids don't see the difference between work and play. Building with blocks is play to a child, but so is vacuuming. Floating a boat in the bathtub is play, and so is helping to wash dishes. You can include a few appropriate tasks for your child along with singing songs, reading books, kicking balls, making a blanket fort, and pretending.
Parents and caregivers are really children's first teachers. Kids arrive at school with a learning foundation. Unfortunately, about one-third to one-half start school unprepared for the learning challenges. Could you use some help?
Each day, the 123kindergarten blog post is a play of the day. Check back each day for some Vitamin PLAY. There's also a new video course with tons more play and learning suggestions. Doable, practical, child-tested and family friendly. Getting ready for kindergarten everyday really is as easy as 1, 2, 3, isn't it?