February is friendship month and kids can be friends with nature. When we think about it, a connection to nature supports us for an entire life-time.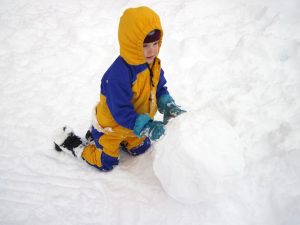 This weekend, in our area, we got to experience both positive and negative aspects to nature. Snow started early Friday and hasn't really quit now for 4 days. The kids went sledding down a big hill at the school, made snow angels in the front yard, rolled down a small slope in the backyard, and made several snowmen. They also ran around the paths of a Fox and Geese wheel and with their dad's help built a snow fort. For a snowball target, they used a hula hoop set upright and tried to throw them thru the circle. Sometimes they missed and caught each other. Thankfully, the snow clothes dried on the registers overnight so they will be ready for more snow play today.
The negative aspects were having to shovel the driveways and sidewalks several times and some slips and falls. Fingers and toes got pretty cold but a hot bath and some hot chocolate helped with that.
Your area may not have the snow for nature play, (you can be glad if you don't) but you will have something else. Just being outside is a start. Check out the sky above and ground below. Clouds are never the same as the day before. What's the temperature? Is there any breeze? A quick glance near our feet may reveal something alive and growing, either plants or small creatures. There could be a patch of sun on the sidewalk or a puddle on the path.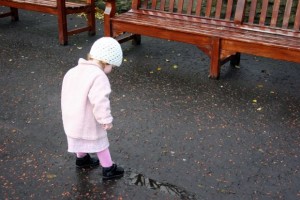 This advice is from the side GreenHeart Education: Helping children to make friends with Nature is something we must do when they are young, in order to give them a lasting sense of comfort in and connection to the natural world, and a deep understanding of their place within it. (Make Friends with Nature)There are some great ideas for ways kids can be friends with nature, including making playdates for nature just as we make them with other friends. How can your child play with nature today?