Not all children enjoy art activities, but kids can be friends with art tools and toys, things like crayons, chalk, play dough, paper, scissors, glue and even chocolate pudding. That's not an art tool, you say? Certainly it isn't usually, but every now and then, it can be.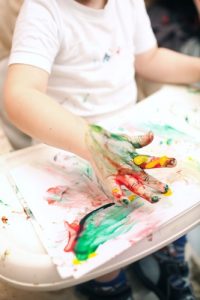 Not all kids like drawing with crayons and paper, but art is so much more than that. It's creating with hands-on. Practically anything can be tools and toys. Play dough invites kids to squish, pat, roll, smoosh, squeeze, and sculpt, and then do it again. This is art at play. Play dough is really easy to cut for some practice with scissors. Chalk turns a sidewalk, driveway, fence, patio, or deck into a canvas for expressing the self in lines, colors, pictures, and scribbles. What do you think this child is saying with this long row of balloons?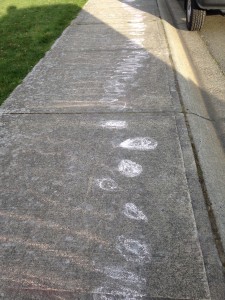 A stick and a beach are also art tools. Washing art work/play off walls isn't easy, or is it? Let kids draw with soap crayons in the bath. Squirt bottles with colored water are a way to turn snow into rainbows. Just fill the bottle with water, food coloring, and send kids dressed for the weather outside to squirt the white stuff. Soap bubbles + color = art fun and play.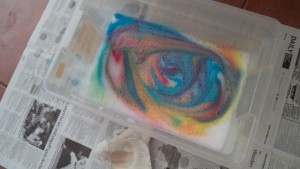 Now, for the pudding, just in case you didn't get enough chocolate on Valentine's Day. (You can also use chocolate crumbs in plain pudding if you have extra chocolate treats. ) Find the biggest plastic plate or even shallow container in the cupboard. Wash hands and together mix up the pudding. Spoon a handful onto the plate or inside the container and let your child fingerpaint. Licks are allowed since hands were washed and kids can draw, paint, and create over and over.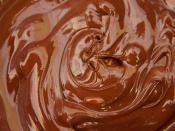 Adults forget that kids can create with anything from toys to household objects to nature items. When we remember that it's much easier so kids can be friends with art tools, toys, and other materials. What sort of art play can be part of your child's day?