What do Easter bunnies eat? They eat carrots and here are two quick, easy, and nutritious Easter bunny carrot snacks kids can help make. Yummy too.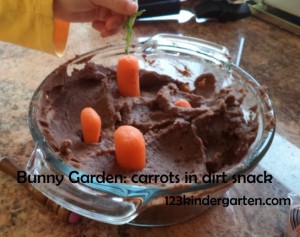 Carrots grow in a garden, in the dirt. To make a garden, open a tin of refried black beans. Using refried beans is much easier for mixing because they are already mashed. Kids can stir in a spoon of olive oil and a spoon of lime juice.  Kids do not like as much spice as adults so we only added a bit of cumin. It doesn't take much to add a little flavor.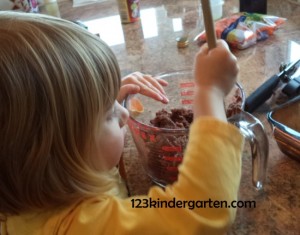 Scoop this into a clear bowl and smooth down. The most fun part is planting the carrots in the garden. Little Sister did this by herself, using peeled baby carrots.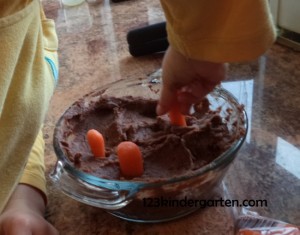 For the stem, adults need to poke a hole in the end of the carrot with a skewer. Poke in a small lettuce, celery, or spinach leaf or a stem of parsley. Rabbit-kids can munch on the carrots and dirt.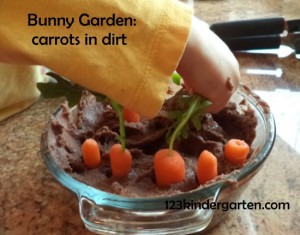 For a variation, instead of using black beans, open a tin of chick peas and make hummus. Drain the chick peas, and mash. Mix in a spoon or two of lemon juice and olive oil. Add some tahini (sesame seed paste) or nut butter. We skip the garlic at our house but do add cumin. Bunny-kids can plant carrots in this or just dip and munch.
Spending time together in the kitchen and cooking with kids is both fun and learning. Kids can help measure, stir, and mix. Even though the order of adding ingredients is not important in these snacks, there is still sequencing. The carrots can't get planted until the black bean dip or hummus is made. When kids are part of the preparation, they are more likely to try different foods and make better food choices. These Easter bunny carrot snacks are great for between meals or maybe could they be an appetizer for the whole family?