No, blowing bubbles messy play activities is not a contradiction; kids can make a mess and get dirty doing anything including play with soap and water.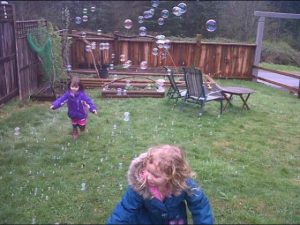 Besides the soap and water, there are a few more items in these messy play activities. Bubble solutions are available at dollar and toy stores, but you can also make your own. Similarly, you can also buy bubble wands or let kids try other items.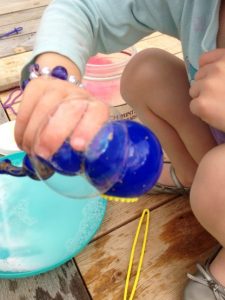 One of the best hacks that has been shared in several parenting and play blogs is to tape the bottle of bubble solution to something upright. This might be the legs of a table in the backyard or a fence post or a bar on the swing set. This keeps kids from spilling the bottle as soon as their hands and arms get slippery from the bubble liquid, which is almost immediately. If you can't find the tape, use string. A shallow container will also work so several kids can dip and play.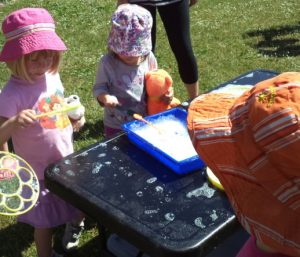 A super fun and not too messy bubble activity is a bubble sock snake. This is shared from an earlier post:
To make a bubble sock snake, first cut the bottom end off a plastic water bottle. Big hands need to do that part. Stretch a sock over the end, pushing the bottle all the way into the toe. It will look like a drum.

Squirt some soap onto a shallow dish and add a little water. It's perfectly fine to use fingers to mix these, but Little Sister didn't want to get hers all yucky. This was news because she has no difficulty putting her hand into paint and making hand prints of every color. She wanted a spoon instead.

Once done, kids dip the bubble sock into the soapy water. This is why a low dish is better than a tall, thin one, so kids don't immerse the whole bubble sock. It's easier to hold onto a dry sock than a dripping wet one.

Now for the fun. Lightly blow into the bottle and watch a soap snake appear. There was a wind here in the afternoon so Little Sister's snake bent. Big Sister could hardly wait to try and her's got so long it did go down. The wind took off a chunk at the end and it floated away like a miniature white cloud. While we can't see the wind, we could easily see which way it was blowing from the way the bubbles moved.
Not all blowing bubbles messy play activities happen outside. For a bubble activity that can be done inside, pour some soap and water into a bowl or cup. Kids blow into the solution with a straw and see if they can make the soap bubbles pile up higher and higher until they spill all over. To keep the messy contained, you can put the bowl or cup in the sink and let the blow but it's not as exciting as watching the bubbles build higher and higher so they go all over the table or floor.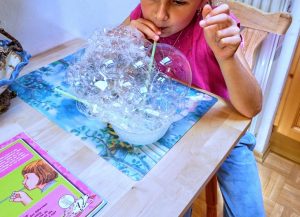 No matter which of these blowing bubbles messy play activities you do, as kids chase bubbles over a yard or park, dirt will appear and stick on to them. Especially if you have added any corn syrup to make a stiffer bubble solution. But what could be easier to clean up than soap? Isn't that already a step ahead?