Play dough messy play can be more or less messy depending on your recipe and any extra stuff. Whatever it is, the play includes fun and learning.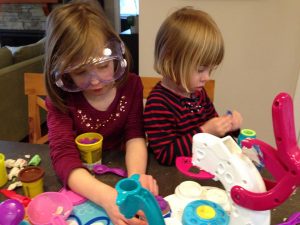 Play dough has unlimited possibilities. Kids of all ages enjoy playing with it. The activity engages the senses and, at the same time, stimulates the imagination. Highly coordinated actions are not required, like putting small Lego pieces together, but manipulating play dough can develop fine motor coordination and strengthen the muscles in the hands and wrists. It can be used alone or with friends, can go inside or outside.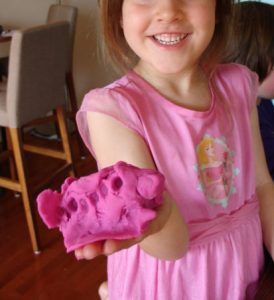 While there was some interaction, the kids were primarily doing their own thing. For their birthdays, they had been given some play dough toys for molding, squishing, and cutting along with several colors. Big Sister mostly wore the goggles so she could be a scientist and create magic inventions. Little Sister finds the goggles get in her way. She was happy squishing, pinching, tearing, smooshing, and squeezing. Her goal was not to make something but to interact with the playdough.
Although play dough is enough by itself, toys and small items can add variety to the play. Sometimes, we've used buttons, bottle caps, dinosaurs, and anything pink. Some other possibilities are toothpicks, beads, pasta, shells, feathers, straws, marbles, sequins, small cars and trucks, fabric, and glitter. The glitter made the play dough sparkle, but we found the glitter was attracted more to hands than the play dough so as the kids played with it, the glitter came out on them. That was quite messy.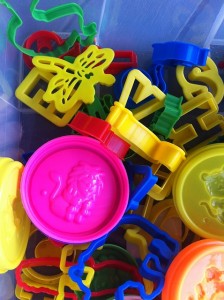 Besides food coloring, play dough can be mixed with paint for a rainbow of colors. Experiment with cocoa powder, kool-aid, or jello powder to make bright colors and interesting smells. Essential oils like peppermint and lavender smell inviting. Experiment with some cinnamon, turmeric, cloves, ginger, and other spices. Those are messes to smell as well as see. The website Imagination Tree had more ideas in the article, "The Benefits of Playing with  Playdough."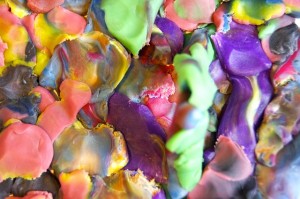 Play dough messy play has fun and learning for hands and minds. Could it be your child's play-of-the-day?
P.S. Come back to the blog tomorrow for more messy play.