Whenever we do crafts it is always messy craft play. Just getting the materials and covering the work area means it messy before we even start. But it certainly engages the kids and is worth the effort. (Unless it involves glitter. Glitter is questionable.)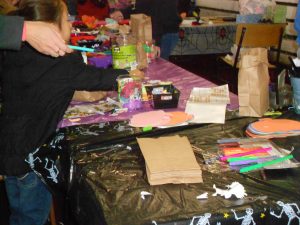 Craft play can't help being messy. Materials can include glue, scissors, sequins, buttons, paper tubes and rolls, crayons, paints, felt markers, nature items, bottle caps, tiny pebbles, fabric, yarn, bits of lace, aluminum foil, straws, cotton balls, breadtags, stickers, pasta, clothespins, paper plates and cups, and whatever else is available at the moment. **Note: Do not take out everything at the same time or you will never get the mess cleaned up. It's better to put out a small amount of something, or a container of assorted stuff so it can be tucked back away. Keeping materials sorted is all but impossible. Our solution is one of those plastic rolling drawer towers. This keeps stuff sort of organized.
These are samples of some of our messy craft play: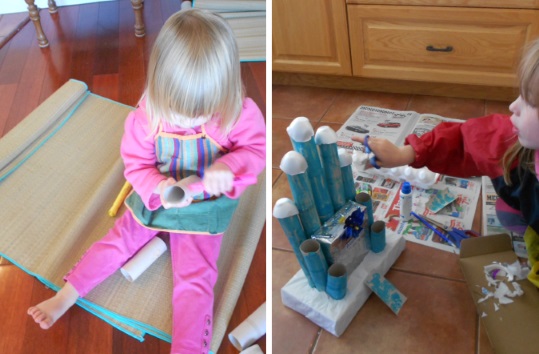 Little Sister just liked coloring on some tissue paper rolls. She didn't make anything but was quite satisfied to roll them around and color on them. Big Sister made an entire Elsa castle after watching Frozen for the zillionth time. She had help to cut out the holes in the cereal box base, but painted them all and hunted thru the craft supplies for other treasures.
Bread tags, pasta, and little twigs made these two pictures. And lots of glue. One of these was made by a boy. Girls are not the only ones that like to do crafts. Kids will reflect their own interests in what they make, be it dinosaurs, space, or flowers. Often, the process is far more important than the product.
Messy play can use lots of one item, or one of different things, as in these cards. The button card was also made by a young boy whose parents make and sell their craft work. The other has a stamp, drawing, sticker, foamie, macaroni, and a googly eye. Kids are creative in different ways.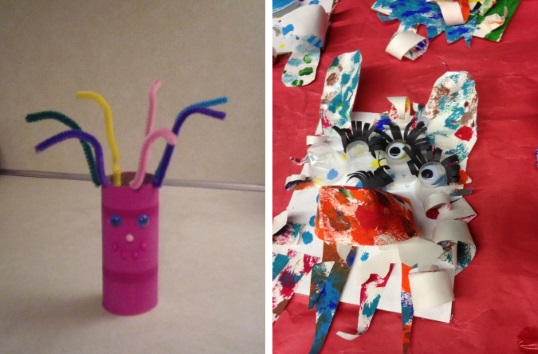 The "monster-who-lives-in-the-backpack" and eats all the notices that come home from playschool and daycare was fun to create, as was the "Wild Thing" from Maurice Sendak's story, Where The Wild Things Are. Inspiration for messy craft play can come from anywhere.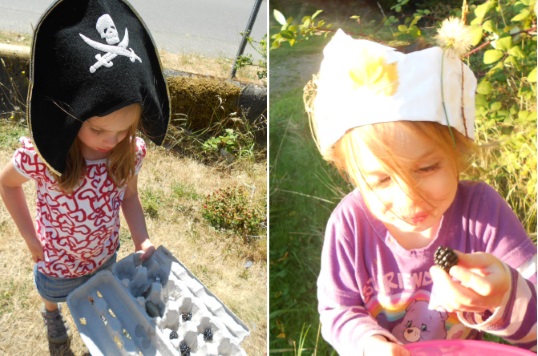 Nature inspired some outside hunting for treasure and then, instead of a pirate hat, Big Sister made a nature crown.  One spring we made dinosaur land and in the summer, a fairy house. (I'll add these photos when I find them.)
Messy craft play for kids doesn't end as kids grow up. How many parents and caregivers out there still love crafts?