Not all young, preschool children will have had to play at the ocean, but they love water, so how about kids' water play to celebrate World Oceans Day?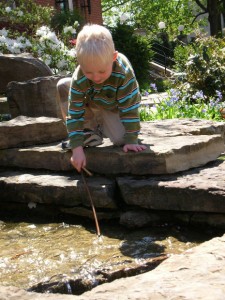 The aim and intention of World Oceans Day is to raise awareness of the role of oceans on the health of the entire planet. Oceans impact our own health and well-being and we need care for them and the life they contain. One way we can do this, is to help children develop a relationship with nature and water.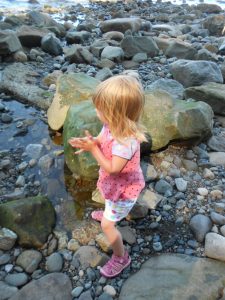 Most of the areas on Earth where we live will have 'wild' water in some form, such as a creek, stream, river, pond, or lake. With some extra attention for their safety around water, we can likely think of a place where we can take kids to play. A favorite activity is to simply throw rocks in the water. The ripples and kerplunk are fun to see and hear. Splashing in the water stimulates the sense of touch and we can feel drops of water spray with fingers and skin.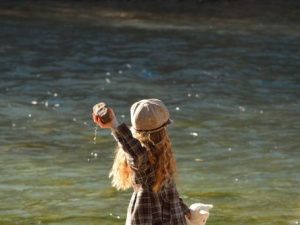 Take a few minutes to look down into the water. What do you see? Are there any plants or animals? What color does the water appear? Looking into the shallow areas kids can sometimes spot plants on the ground under the water and, perhaps, a few minnows or other creatures. If possible, scoop some water into a clear container for a closer look.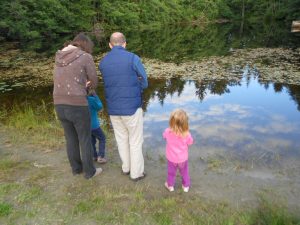 Check out how the water feels. The temperature will vary depending on the depth of the water and the weather. Water feels colder on toes than it does on fingers. If you are visiting a place with waves, toes love to see how close they can get to the incoming water without getting wet. Some waves are much bigger than expected, so it's important to be careful.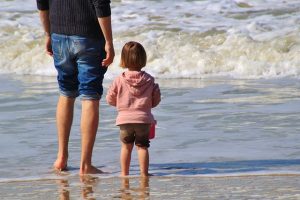 What will your family do for World Oceans Day? Will it inspire some kids' water play?
Q. What did the ocean say to the shore?
A. Nothing, it just waved!