A favorite weekend activity for the kids is to go for a fairy nature walk. In a park nearby there is a path thru the trees with some fairy doors. We have to stop at each one and knock.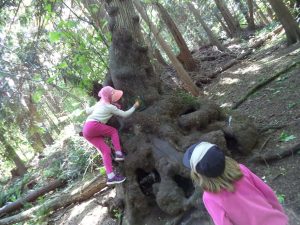 We live in an area that gets lots of rain. Parkland and undeveloped areas have trees that are thick and tall. Paths thru the trees are shaded and quiet, just right for finding fairies. Someone quietly made a couple of fairy doors and attached them to the trees. Over the years, a few more doors have appeared. The kids know it's because more fairies have moved into the area. To mark the path, there are bits of sparkly confetti  or shiny rocks in a few strategic places.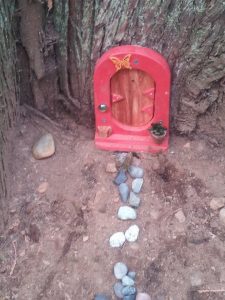 What names would you give fairies? The doors are all different, obviously hand-made, and some have names, like Ember and Sparkle. Above one of the doors is the message, "Give a little, take a little." Kids love to open the door and see what small treasures are inside. They learn they need to give something and not just take.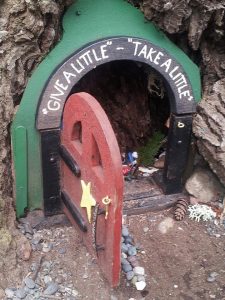 Surprisingly, the kids are every bit as excited about what they will put in their pockets to leave in the hollow of the tree as to what they will bring home. They like to check and see if what they left last time has been chosen by somebody else. We might think kids are learning the lesson to both give and take, but perhaps, they are also teaching us how good it feels to give without knowing what we will get in return.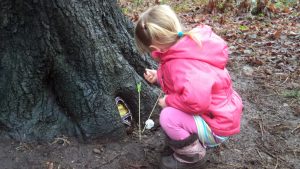 Besides the fun and excitement of the fairy doors, the time along the paths and in the trees feels so renewing. Both adults and kids are impacted by stress. Time in nature reduces stress and restores a feeling of balance and well-being. Life seems to take so much and doesn't give a lot back. A connection to nature can replenish what we need. For that, we don't even need fairy dust or doors. Can your weekend include a fairy nature walk, with or without the fairies?
Come take the path to play on the blog at 123kindergarten.