This weekend kicks off a month of kids July fun activities. It's also time to celebrate with fun and play! For today, we can party with Canada. It's Canada's 150th birthday. Who gets invited to birthday parties? Well, friends and neighbors.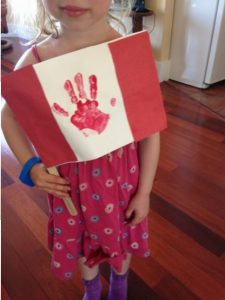 The Canada flag is red and white. Here are some fun activities:
Make a Canada flag. The maple leaf in the center can be tricky to do, but a handprint works too. Two vertical red bars on the side, and a red hand on white, and you have a flag.
Start the day with red berries, yogurt, and maple syrup on pancakes. Or, layer berries, whipped cream, and granola in a clear glass for a tasty snack.
Make any flavor snow cone, because everyone in the world knows Canada has snow, but hopefully not in summer.
Freeze coconut milk and raspberries into popsicles.
Fireworks, parades, and watermelon signal time for fun and play with friends, family, and neighbors. 'This the season for camping, water fights, marshmallows, 'smores, kidy pools, campfires, balls and Frisbees, and more! Long days and short nights give us more summer time to celebrate with fun and play. What will you do?
Print off the July calendar below and tape to the fridge for a play-of-the-day inspiration all month long!