The Cat in the Hat dishes up some kindergarten readiness learning fun today. Take a look at Cat's Hat. It goes red, white, red, white. That makes a pattern. Learning about patterns is not just a readiness for kindergarten skill, it's a fundamental skill for all learning. Plus, it will help to build higher level thinking and problem-solving skills. Kids need lots  of experiences with patterns and lots of repetition.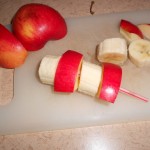 Part of the attraction of all Dr. Seuss books is the repetitive pattern. The pattern makes the story easy to follow and kids love to predict what might happen next and what they might hear next. Language has patterns, and music, math, and science, too.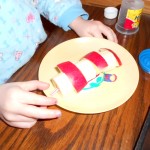 Patterns help kids (and grownups!)remember. Sometimes, when we have to remember a large amount of information, we use the strategy of noticing a pattern. Suddenly, the amount of information we need to hold in our memory is much, much smaller. The pattern makes the job easier. Being able to notice, figure out and make patterns is a powerful thinking strategy for kindergarten readiness and develops with practice.
This snack has a pattern like the hat. It goes red, white, red, white, red, too. Toddlers might be able to slide the banana slices on a straw but the pieces of apple (or strawberry) may need grownup hands. Have your child say the pattern and tell you what to do next. What other patterns can you and your little one find–or eat–today?