This year instead of egg on our faces, as the expression goes, we ended up coloring Easter egg faces. It wasn't planned but was very meaningful, for us all.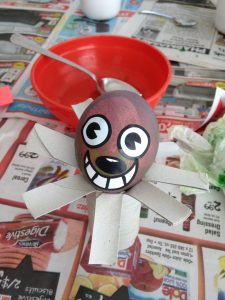 Coloring Easter eggs is something we do every year in one form or another. This year, we hard-cooked the eggs, got out the cups and spoons, and spread newspapers all over the table, like always. But the planned activity soon took a detour.
For a simple coloring solution, we pour a couple fingers of water in a mug, add a spoon or two of vinegar, and stir in a few drops of food color. So far, nothing was different, but after making the red color bath, we discovered there was barely any yellow left and the bottle of blue food color was empty. So much for dipping the eggs in red, yellow, or blue, coloring over with wax crayon, and dipping into another mug to make orange, green, and purple. We only had red. Although we hadn't used green food color in the past, instead mixing yellow and blue to watch it make a new color, we did this time.
Big Sister dyed one egg red, drew hearts on it with a wax crayon, and popped it in green. The egg was a muddy brown with red hearts. Little Sister dyed her egg green, colored scribbles on it like grass with the wax, and then put it in red. The result was a similar color of muddy brown but with green streaks. The kids made a couple more muddy brown eggs and we were done. There would be no basket of eggs in all the colors of the rainbow on the table this year plus, so far, there hadn't been cries of surprise and delight from combining colors and getting a new one. I tried to lighten the situation with the pun that our eggs weren't "eggxactly cheery".
Time to improvise. This is how our activity morphed into coloring Easter egg faces.
We checked the craft basket for stuff to glue on the eggs and found some eye, nose, and mouth stickers to make faces on photos and other items. Little Sister made a face on her egg and said it was jeery. I thought she was giving it a name and asked, "Do you mean Jerry?" Her response was probably to disagree with my comment that our eggs didn't look cheery but the name stuck. She made Jerry a hat with the leftover strips from the basket and continued holding, talking, and cuddling. She told us, "I don't feel so alone and afraid when I have my friend Jerry." Jerry sat in his flower basket when she needed both hands and smiled at all of us.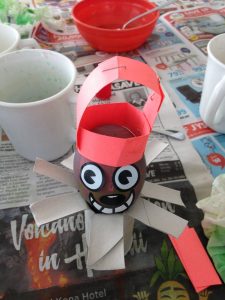 This activity didn't go as planned but there was deep significance for all of us. Adult expectations weren't met for the final product, but for the kids it was highly meaningful. Coloring Easter egg faces was not usual. Maybe the muddy brown egg with a heart on it and the smiling egg face are symbols of what's really important?