Series Part #18: How Does Your Child Manage Risks?
The ability to manage risks is not just important for grownups. it can impact children's learning and influence their getting ready for the adventure of kindergarten. Because each child is unique, some will eagerly anticipate starting school and others will be hesitant or anxious. This can be because of their willingness to take risks and try something new and unknown.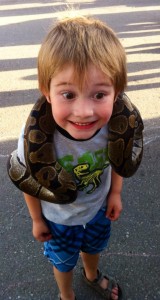 We all have different ways to assess risks and to manage it. What are you like when faced with new information or ways of doing things? When it comes to languages, I am fairly risk-tolerant but for technology, I avoid taking any. How about your child? We don't really think of children as having comfort zones and risk levels, but this can be why some kids leap off the top bunk and others cling tightly to a parent's hand. Where is your comfort zone when it comes to critters like this snake?
Learning to cope with risks and the unknown is part of development, It is certainly our task as parents, teachers, and caregivers to help children learn healthy risk limits. We often have to balance and decide if we need to encourage our child or if it's better to put the brakes on. This can be controversial. On  the one hand, we don't want to be helicopter parents or teachers, hovering constantly. On the other, safety is always a consideration. This will be a debate and discussion to have at home and in care centers, and lately in various places on a national level.
Taking risks can be considered a skill or strategy and kids will need time and opportunity so they can learn from their own experiences. Each child can vary between refusal and impulsiveness, depending on the situation, and in some ways dealing with risks is also dealing with fears.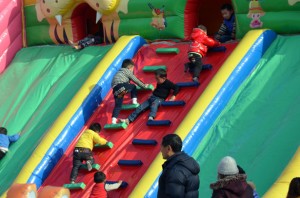 Sometimes, children will try by themselves to overcome a fear. We have all seen children who will climb up a slide, wait at the top and even climb down before eventually sliding. After practice, those kids who could only go down on their tummies try it head first.
Coping with new information can also involve risk and fear. It's too bad we don't have nightlights for being in the dark when it comes to learning. How do you help your child manage risks?