Tomorrow is New Year's Eve so here is one last Christmas kindergarten readiness activity for this year.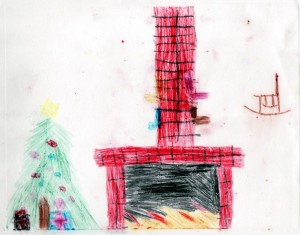 Ask your child to draw a holiday picture. When the picture is ready, have your child tell you one thing abut the picture. Print that out and then read it by pointing to each word. Encourage your child to try reading it with you. You can also ask if s/he knows any of the letters as you point to them, or name a letter and ask your child to find it. Count how many words you wrote. Are there more words or more letters? Words are made of letters, but there are more letters than words. This is the kind of interaction that will grow a good reader later on. Save the picture in the memory book that we worked on in November.  For younger kidlets, find a picture of something that happened over the holidays and show it to your child. Ask what is happening and talk about it. If you can, write that down.
The process of writing down information helps for kindergarten readiness. Your child learns that the squiggles hold meaning. This is a critical concept and comes from lots of different experiences and exposure. This picture was colored more than 20 years ago by my son. I love the stockings hanging on the chimney part and the floating rocking chair . I slipped it in a plastic page sleeve and packed it with the Christmas decorations. Holidays are for memories. What ones will you tuck away this year?