Soapy water messy play isn't a contradiction. Instead, think of it as a magic formula for fun that goes like this: Soapy Water + Dirty Toys = Clean Mess.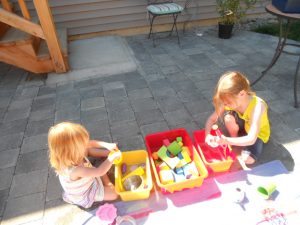 We managed to have a sunny afternoon and toys, just like the rest of the house, needed some spring cleaning. I partly filled some bins with warm, sudsy water, gave the kids a few rags, and let then wash toys. After spending the winter on the floor, toys needed some tender loving washing. Once the toys had had a bath, we spread them out on towels on the deck to dry. Play can be work, and messes can be clean.
Is there anything else that can use a wash? This time of year, there's a good chance some camping or picnic gear needs a bath. Soon, it will be warm enough to use it. For bigger items, kids can put some soap on with a sponge and then squirt them with a hose to rinse. That should spread the clean mess all over the yard. The patio furniture might also need some attention and scrubbing. Fill bins or pails with the magic solution of soap and water and let kids wash.
Spring rain just isn't enough to get a car good and clean. Rags and sponges are as much fun to a child as a toy. Give kids more soapy water and watch how dirty it gets from washing the car. Floor mats can use a good squirt with the hose too—that is, when they are outside on the driveway, not when they are still in the car!! This messy play is growing from the deck, to all over the yard, and now the driveway too. Good thing it's clean fun, although by now kids might be dirty.
Work can be play, and messes can be clean. Anything else need washing for some Soapy Water Messy Play Fun?