Do you have a button tin or jar at your house for some play with buttons? Buttons are great for sensory and loose parts play, if kids are past the everything-in-the-mouth stage, as well as in an ear or up a nose. You don't need buttons in huge amounts. Kids will play with even a couple of handfuls.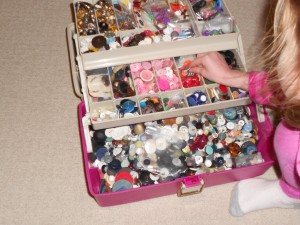 Buttons come in an endless variety of color, texture, size, and even shape. Most of them are round, certainly, but there are specialty ones for everything, like ducks, bunnies, flowers, hats, and more. Materials such as plastic, metal, leather, wood, and fabric make them all feel different too. Textures range from smooth to bumpy, fuzzy to hard. There are so many colors it's easy to make a rainbow. Big buttons could almost be used as jar lids and some are no bigger than a pea.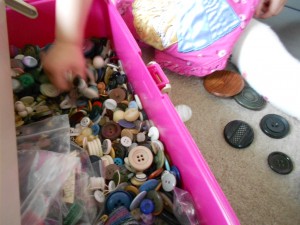 Play happens in a variety too. An obvious way to play with buttons is to sort them ino different groups. Little Sister wanted to pick out all the big ones. She liked to hear the sounds as she stirred them with her fingers or dropped them on the floor. Sorting by color is another possibility but it's not always easy. Besides sensory, buttons can stimulate imaginary play. Big Sister liked the ones that looked like jewels.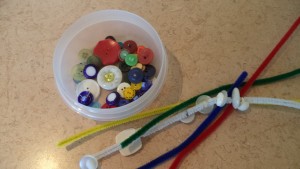 Threading on pipe cleaners is much easier than threading with a needle and string, even if a pipe cleaner is only one length. Kids can make loops to go around their arms to give them special powers. Pick out some buttons of 3 or 4 colors and let kids match them to pipe cleaners of the same color. (Thank you, Diapers to Diplomas, for this great idea!) Choose ones with fairly large holes or buttons with a loop on the back so they are easy to slide onto the pipe cleaners.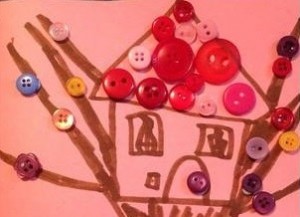 From such simple materials comes complex play. No, that's not exactly right. The play actually comes from the child. Buttons are stimulating the play. However it works, play with buttons can encourage such skills as sorting and categorizing, making patterns, counting, explaining, asking questions, choosing, and visualizing. It can encourage imagining and creativity. Small muscles in the hands, wrists, and fingers are strengthened and exercised.
Button, button, how can kids play? Will child's play with buttons happen today?