Did you see the pictures of the rainbow for the day over Manhattan? The young children of this generation were not yet born for September 11th, 2001. They weren't even twinkles in their parents' eyes.  Yet, it is for them that we continue to strive to create a more peaceful and secure world.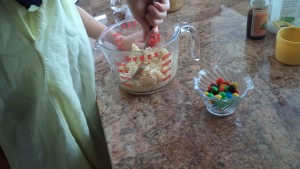 One of the messages of this day that echoes over the years is to take the time to let others know we love them. Even the sky seemed to be sending a message with its rainbow over the area. Instead of just being busy, we took some time to be together, to connect, and  so we made a batch of cookies.
As we mixed up the cookie dough, this simple activity seemed to be a way to recognize what's important—home and family, and taking care of each other. Thinking of the rainbow, we added a few brightly colored smarties, with a couple to munch on as we measured and stirred, and the rest of them did get into the bowl.
While the cookies were baking, we tidied the kitchen and washed the dishes. The fresh, fragrant cookies only needed a few minutes to cool before we sat down and enjoyed eating them. Then the kids went off to play.
There are so many life lessons in making cookies: how we can make something together, clean up is part of the process, and taking care of basic needs, to name a few. Lots of other learning too: measuring, counting, how heat changes ingredients, doing things in order, reading a recipe, and more.
Who knows what any day will bring, but for this day, we had a small rainbow of our own. What will you and your family do today?