A marvelous idea for celebrating is to spend some time with trees, an Earth Day Forest Bath for kids and adults. Even if it means visiting a forest, a bath conveys the sense of being immersed in them, relaxing in the stillness and connecting our energy to the forest.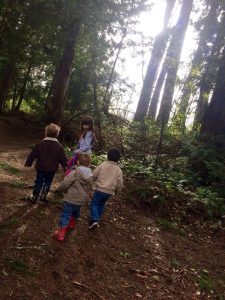 In Japan, Forest Bathing has been part of the national public health program for decades. It's been proven to "lower heart rate and blood pressure, reduce stress hormone production, boost the immune system, and improve overall feelings of wellbeing."
While this is for adults, children benefit too. The very young suffer from stress and anxiety. Childhood comes with attacks on the immune system as kids cope with all kinds of contagious challenges. Building a connection, a relationship to nature while they are young will support children for a lifetime.Finding a place with trees can be a challenge in urban areas. Parks are often the best option unless you can go to a wilderness area close by. Once you get to a place with trees, spend a minute or two with your child looking at them. Look down on the ground for pine cones. Then, look up. Do the trees go far up to the sky? Any spring blossoms?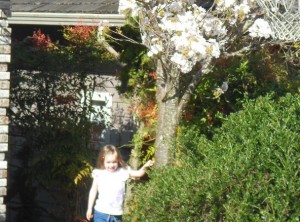 Not all trees are the same. The leaves are different, but closer to the ground, the bark is too. Some trees have rough bark and some are smooth. Young kids won't want to spend much time looking at trees, but feeling the bark is quite sensory. Trees with exposed roots can be a home for little creatures, real and imaginary ones. The branches and leaves may be sheltering a bird's nest but nests are hard to see.
One of the most fun activities for kids is to climb a tree. Of course, this can be risky although it is magical, almost like being able to fly.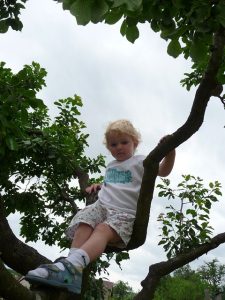 In some areas, there may be tiny trees available for planting. Many commercial nurseries have specials on trees for Earth Day. This is wonderful day for connecting to nature. Will in include an Earth Day forest bath for kids and the rest of the family?