Could the real reason why the chicken crossed the road be because she saw a sign that said chocolate?
For Valentine's, treats can be sweet and healthy at the same time. Plus, when kids help in the kitchen they are having fun and learning some important kindergarten readiness and life skills. This chocolate smoothie is nutritious and easy: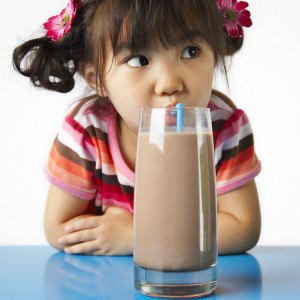 1. Using a plastic picnic knife, kids can slice half a banana into a big measuring cup.
2. Now, for the fun part, let your child use the potato masher to squish and smoosh the banana all up.
3. It might be an idea to check if there are any big lumps. Sprinkle one or two spoons of cocoa powder over the banana depending on how much you and your child like chocolate.
4. Mix that all up and stir in about a cup of milk. This can be dairy or non-dairy such as soy, rice or almond milk.
5. This part needs grownup hands. Pour the smoothie from the measuring cup into a blender. Add 2 or 3 ice cubes, put the lid on, and blend until smooth. A hand blender sort of splatters and is messy.
6. Pour into cups and enjoy. If using straws, they need to be fairly big so bits of banana and ice don't get stuck.
Involving kids in the preparation of food includes lots of learning. There's no doubt that cooking is a sensory experience, for all the senses. Cooking gives a chance to practice actions like measuring, stirring, doing steps in a particular order, observing, and following directions. Waiting is not always easy, but it can certainly be important. Sharing will be part of the process too. Kids also learn about safety. They will feel proud of being able to help, even with cleanup. Language is a big part of the activity: new words, explaining, and asking questions. What are some of the ways that your child says delicious?