Water play helps develop some important readiness for kindergarten skills in terms of math. Math is based on the concepts of things being more than, less than or equal.  A sink or tub full of water and a few containers to fill and pour provide an opportunity for children to figure out these ideas of more, less and just the same amount.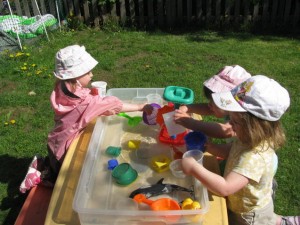 Using two containers, fill one right up. Then, have your child pour that container into another one that's bigger. Oh, oh, it's not full. It needs more water. Try it again with a smaller one. This time it was too much. Give your child a few other items, such as cups, small bowls, big spoons, etc. to check if there is anything that holds just the same.
Wee ones as well as older kidlets can play and work at their own level. Talking about what is happening will extend the learning for your child. How's this for a kindergarten readiness formula: 
water + a few containers = math?