NOW in its Second Edition!
1 2 3 Kindergarten
Everything Your Child Needs to Learn Before Kindergarten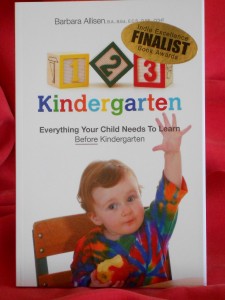 112  pages of easy-to-read and easy-to-do tips and suggestions for helping your child get ready for kindergarten. Includes a kindergarten readiness developmental checklist and rating scale. Illustrated and informative, loved by parents, grandparents, teachers, daycare providers, and community resource centers–and kids.
Click HERE for Amazon.com
Click HERE for Amazon.ca:
Mrs. A, I love your book. What a fantastic resource! K. P.
…I need 2 copies so I can loan 1 and keep 1! S. L.
You are an incredible teacher, I have watched you with awe and will strive to be even a fraction of the leader and mentor that you have been to your students. As a parent I appreciate all you have done for my daughter; as an aspiring teacher I look at you as a role model. (from Jarrah's mom)
The earlier you start the more time you and your child have for kindergarten readiness. As the following graph shows, the prime window of development in nearly all areas for young children is before school begins.  Parents and caregivers are the first teachers. School is a follow-up to the work–and play–that you have already started.
"The good news is that maximizing learning can be done in minutes  a day, piggy-backing on to other activities that you are already doing. It's not a question of adding on, but targeting  in. And having fun!" Barbara Allisen
And now there are 2 books on Kindle!
and a book of summer fun and learning activities
Summer Activities For Kids: Amazon.com
Summer Activities For Kids: Amazon.ca