1Q, 2Q, 3Q  … 10Q. You're Welcome.  (Hint: 10Q = tenQ or thank you)
When I was little, I remember my mother making me write thank you notes after Christmas. I never knew what to say and I found copying and printing very difficult. However, when I became a mom, I made my kids do it too, though we made it a lot more fun. Learning basic manners is not just a kindergarten readiness skill. Some parents and caregivers show little ones how to sign please before they can even talk. Here's a suggestion: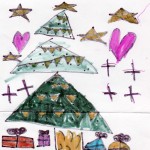 1. Fold a piece of paper like a card.  2. Kids draw and color on the front or cut something out of wrapping paper and glue it on. 3. Inside, a short message either child or adult written. It can be as simple as Thank You or , even shorter with just 10 Q. Have your little one print some XXX's and OOO's if possible. 4. A signature, adults address the envelopes and kids lick the stamps. 5. Mail them off, and it's all done. Somehow, though, my own kids never wrote any thank you's or even 10Q's to me. Oh well, I got the real hugs and kisses. (***note to self: Send thank you to my parents!!)
Can you suggest some other ways to help children learn to say thank you?