Twinkle, twinkle little star. How I wonder what you are? It's hard to believe but this star is made of 3 toilet paper rolls.  Instructions for this fun project follow.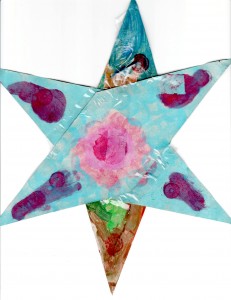 Some parents think that children need to learn specific information for kindergarten readiness. Many people think that it is the school's responsibility to be ready for the children. That is indeed the case to some extent. But just like any other event, parents can help get kids ready. After all, we prepare kids for the dentist by explaining what it's all about. Adults get ready for Christmas, prepare for new tasks, etc. Readiness for kids is helping them learn and do all kinds of things so they can shine like the stars they are. Now, on to the craft, helping your little one as much or as little as needed. 
1. Unroll 3 tissue rolls. 2. Flatten them as much as you can. A quick wipe with a damp paper towel helps. 3. Paint them, stamp with bingo dabbers, color with felts or crayons or cover with foil. The paint will help straighten them or a heavy book. 4. When dry and flat either glue them like a star or staple in the middle. 5. A photo can be attached to make a 2-in-1 star! Can you shine?