Recently, I found the best sale! I was able to pick up some small blank exercise books for 25 cents. There were more pages than needed for our book making project but the booklets were quite sturdy with good staples. Each child was able to make his or her very own book. The floor ended up with mounds of torn paper bits and the tables covered with glue but the children were so motivated and had lots of fun. This kindergarten activity can very easily be a kindergarten readiness one, too.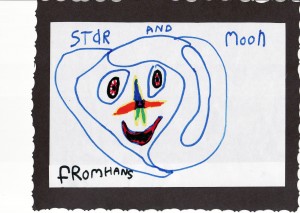 This is what we did. Each child looked through a magazine for pictures that he or she liked, then cut them out and glued them onto the blank pages. I wrote one or two words underneath the picture. Some children only did 3 or 4 pictures, some did many more. This activity can easily be done at home with young children. A blank book is very inexpensive or just fold some paper over to make pages and staple. Find pictures, glue and print the words. Some ideas for homemade books are: colors, people, toys, food, animals, cars and other transportation, numbers, signs, and more. Older kids can draw and, if they can, copy the words themselves. Children themselves create the meaning so 'reading' it much easier. Sometimes, these books are far more special because they truly do belong to the kids. Authors–before school even starts. An inexpensive but priceless book. Can you help your child 'publish' one?
FREE ONLINE COURSE
Enroll in this free online course, Brain Power and Play for Young Children, to learn how to boost your child's brain power before kindergarten!