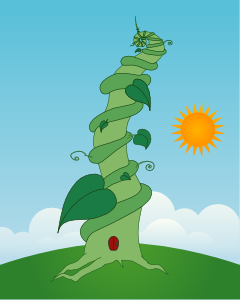 On the face of it, the lessons in Jack and the Beanstalk do not seem to be ones that we want to teach children. If we only tap into the meaning on the surface Jack goes somewhere he shouldn't and takes something that doesn't belong to him. But below the surface, Jack symbolizes someone confronting his fears–the unknown; facing up to challenges–going away from home and leaving the comfort zone farther and farther below; overcoming  monsters–greed, anger, and hoarding, and ultimately being successful.  These are the desirable lessons hidden in the story and make it worthwhile sharing with children. Jack shows how the sky is the limit and how far we sometimes have to venture, to the very depth of our courage.
After reading Jack, it's also fun to plant bean seeds and watch them sprout. There's lots of learning about seeds, plants, caring for them, growing, cycles, etc. This isn't specific information that kids need to learn before kindergarten but doing a project and watching how it turns out are basic developmental as well as kindergarten readiness skills. Patience is rewarded with green sprouts that reach onward and upward, just like we hope our little kidlet sprouts do.
Do you agree we're not just planting seeds but learning, too?