Disney versions of traditional fairy tales have their own spin but they keep the stories from being forgotten. Beauty and the Beast is familiar to lots of little ones. There is an obvious message that there is beauty on the outside and beauty on the inside. But there are other lessons, too. Beauty and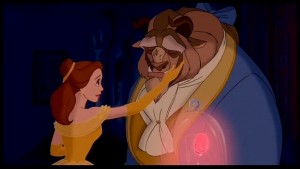 love are often disguised. Sometimes it takes courage and patience to see them. This fairy tale 'plants the idea' that there is an inner core to each of us. Of course, this is not a concept that children will understand for many years but the roots to who we are get started in childhood. 
Once you've read the story of Beauty and the Beast kids might like to create their own beasts. Round up some wonderful junk such as cereal boxes, paper rolls, fabric, ribbon, yarn, packaging, tin foil, etc. Playdough can be wonderful fun to sculpt monsters. Although this is play, it's also practice for lots of kindergarten readiness skills such as organizing, imagining, figuring out, putting together, learning to use tools such as glue and scissors, and more. What beautiful beasts! Are there other suggestions for activities, either or both, beast and beauty?
Imagine and create.