On the drive to work today, with this being the last Discovery Space Shuttle voyage, I heard the neatest interview with an astronaut! It was so cool I rushed into the school and down the hall to my class bypassing the staff room and my first cup of tea. The radio host asked what were important skills for astronauts. He named two that he felt were most important: observing and problem-solving.
Now, maybe that isn't as exciting for you as it was for me but those are two of the skills that are included in many of the blog posts on activities to promote kindergarten readiness. Plus, this month's blog topic is how fairy tales can be used to develop all kinds of kindergarten readiness strategies and every fairy tale has a problem that needs to be worked through. I felt like cheering because that's what we're doing now.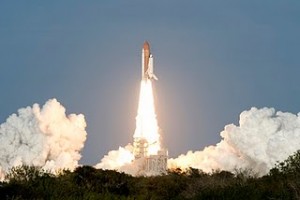 (I'm often teased by teachers in other grade levels and even by my friends about the things that I find cool and exciting. Even today a friend sent me a link to a 'funny' video about a treatment for annoyingly cheerful people that would turn them from optimists into pessimists. To prove it was effective, it was tested on kindergarten teachers. I'm a chronic case.)
For today, wherever you and your child can find a few minutes, take note of what's in your space.  Enjoy the journey…3, 2, 1 Blast off to Planet Solution. What kind of fairy tale adventures are you encountering?