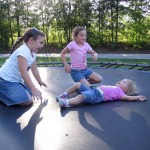 Move over, Jack. Hello, magic jumping beans. Did you know that activity is critically important for children's skeletons? A professor of medicine, Dr. Heather McKay has been researching the role of exercise on skeletal development. "There is no time as important as childhood for the health …of a skeleton," she advises. Early activity can actually change the shape of bones, making them stronger. She has good news for mothers of womb-kickers; these babies are born with stronger bones! Even a little exercise can make a bid difference. What kind of exercise? The kind that drives parents crazy: running, climbing, jumping, wriggling, hopping, etc. when kids do it in the house. But kids can do all this and more–for free–at a playground and since this is Saturday…!
I know this is almost the same message as an earlier blog this week on promoting physical development and kindergarten readiness by springing into action. But kids need lots of action time for good healthy development.  Jack may have found gold with his bean seeds. 'Jumping bean kids' grow strong bones and skeletons–a lifetime treasure. (Trampoline not needed, can be anywhere. Where do you jump?)
FREE ONLINE COURSE
Enroll in this free online course, Brain Power and Play for Young Children, to learn how to boost your child's brain power before kindergarten!