Yes, even the Super Bowl can help kids with learning (and kindergarten readiness). Last spring, I wrote several blog posts about what kids can learn from hockey and much of it is the same. Following is a list of some learning opportunities with football:
numbers: Kids can learn numbers from player jerseys.
colors: team colors cover the rainbow.
language development: There's lots of conversations about Super Bowl and that stimulates kids' language learning–but careful with some of the words!
shapes: What shape is the flag for measuring for first down? How about the score board? What other shapes are there?
opposites: Over-under, win-lose, up-down, in-out, behind-in front, happy-sad, black-white, big-little, go-stop, and I'm sure there are more.
resilience: What do players do after they fall down on the field? They get up and try again. That's an important lesson for anyone.
attention/observing skills: Kids get to practice paying close attention to the action and observing carefully what's happening.
social skills: Being part of a team is a social skill. Kids watch adults being part of a team.
emotional regulation: One of the big learning opportunities is how to handle winning & losing. Sometimes, this is hard for grownups.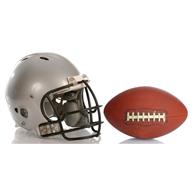 Kids learn in lots of different ways.  To help your little one with kindergarten readiness use whatever is important in your child's and your family's world. When children are excited and involved, the learning possibilities are tremendous. Readiness for kindergarten does not come from workbooks and flashcards but from ordinary, everyday living and from some events that are different and unusual, too. Score another one for kindergarten readiness! Will your family be watching Super Bowl?